My trip to Spain
So I was in Spain.
There was a message on the bulletin board of our school, announcing a trainee position in Spain, in a company called Net Media Team, who's main product is www.enetti.com portal. I had thought before about moving to Spain, so I contacted them...
Sa april 7. 2001 first day
There are always celebrities to be sighted in the Helsinki-Vantaa airport, and this time I saw Taina Uppa (Finnish athlete). Flight was otherwise okay, but it was one hour late, and the steward dropped my bread on the floor.
In Málaga airport I met Johanna, who does all kinds of things for Enetti, and Anne, who is also a trainee, but in marketing.
We drove to Fuengirola, where I left my bags at the flat (a few blocks from hotel Javisol, which some of you remember), and then we headed out into the night life... Johanna and Anne had many acquaintances in London bar and in that other one.
"Mai tai" on the other hand is a night club owned by a Finn. I hear the owner has other clubs in these parts as well. All the staff are also Finns, so one can walk up to the bar and ask for a "keppana" or a "kossuvissy". Whisky I ordered was really huge in size compared to the ones you get in Finland.

This is what the night in Fuengirola looks like after a few cheap drinks.
Huh?
This is a virtual postcard in form of a diary. I'll be giving its address to different kinds of people, so some of the text might seem like it's directed at somebody else, or like it's unnecessary repetition.
Su april 8.
We went for a walk on the Paseo Marítimo. Last night I hadn't really seen the mountains or the sea because of the darkness. Temperature was about 27 C. After today it has usually been between 20 and 24 C.
Those of you who have been here will be glad to learn that the zoo where the cages were all too small has been closed for renovations. Beside that is a new eight-studio movie theatre. They said they'll have undubbed films in a few months, maybe. Another such theatre has appeared since the last trip as well. The bull fighting arena was still in place.
I met Net Media S.L.'s owners, Kari and Ismo. Both drive a Harley and practice krav maga. They had seen the language tutorial web page I made at school, and told they were planning something similar for their site, so I guess I'll get to implement it.
Mo april 9. work
I got assigned to make a web page for a Finnish entrepreneur who lives and works here. Some other company had started the job, but had left it halfway.
During the week I have constructed a simple site as instructed. Among other things it has a simple javascript shopping basket application. Orders are received with Formmail, which we have used at school!
I don't even know if they want to run their business that way, so I've kind of become a business consultant, though I was supposed to author web pages!
Pages are a prototype, i.e. we'll meet with the entrepreneur next week and ask him to comment on the site and produce texts for it.
I can listen to Finnish radio stations on the Internet while working. News from Finland can be read from many sites. Even Finnish television (combination of different channels) can be received through satellite, but not in our flat.
We april 11. lifestyle
In the evening we went to bathe in sauna in Johanna's mother's place in Benalmadena. She lives on the mountainside in a white villa. On the door we were greeted by three eager fellows, a border collie, a dutch shepard and one who's father is bit of a mystery.
After Marita moved here, she gets calls from all kinds of distant relatives who she hardly has ever met. They all want to come to visit, say, for a couple of weeks. First four months in Spain have been as if she was running a hotel.
On the terrace there were both mountain and sea view. Some hills below us there was a grand villa and a private park that belong to a Danish millionaire. The gatekeepers hut was bigger than an average family home.
Many people were present, and we ate self-made kebabs, drank tinto con gaseosa, Soberano and Mahou in the downstairs bar, and went outside for a dip in the pool. Night is so dark here that the lights of mountainside habitation were like a string of pearls. Even the moon was red.
Finns in Fuengirola
There are all kinds of services here in Finnish language, after all this is the largest Finnish community outside of Finland.
There are e.g. Finnish opticians, barbers, doctors, dentists, a psychiatrist, a church, a video rental of films subtitled in Finnish, bars, restaurants, car repairs, car rentals, a beauty shop, dog trimming, a book shop, an art shop, construction companies, moving companies, an interior designer, school, high school etc. etc. Major Finnish newspapers can be read the same day, and there are several local Finnish publications. Local Finnish radio broadcasts about two hours every day.
Then there are "gestorias", companies, that take care of all the bureaucracy here: residency permits, rental agreements etc. etc.
Finnish habitation here got started decades ago, when athletes came to practice during the winter. In second wave came the pensioners, but now the population is quickly getting younger as entrepreneurs and whole families move here. Not all are wealthy as is believed, after all a poorer person does better here than in expensive Finland.
Th april 12.
Anne left to Finland, so I don't have a picture of her here.
Fr april 13.
I was assigned to make a drop-down menu, such as they have on the Helsingin Sanomat website. I thought I'd have it done in a few hours, but it turned out to be difficult. When ever I got something done, something else ceased to function in some other browser. Finally I got it done, but then I noticed that it would also need to work in a page with frames. I wonder if I get anything done that actually gets to be used before I leave here...

There is a reason why I use a Macintosh at home.
In the evening I went for a stroll around the town. Those of you who remember Monita will be disappointed to learn that I haven't run into her yet. I did however meet Valerie, who said she is from Tsechoslovakia (is such a country still in existence?), and that she paints in oils. When I told her about my job, she told me she had studied programming for a few months.
Erkki Junkkarinen would have been in Mai tai. (Is such a performer still in existence? Perhaps it was a look-alike or DJ's theme night). Entrance was 800 pesetas, so I went there later in the evening when the entrance was free. I haven't been able to spend really any money here, since we always eat in the flat, and I haven't bought any souvenirs.
Su april 15.
Kari says I could come to work here for the summer. Perhaps some day, but I dare not leave my steady job in Finland. I am a little tempted though...
In the evening I saw, or rather heard, a boy on a motor scooter be bumped by an Opel Astra. His helmet flew somewhere far away. People gathered round to see if they could help. Ambulance came in about four minutes. One must be careful here, traffic is sometimes quite dangerous.
La Semana Santa
Easter in Spain marks the beginning of summer season. Many come to spend it here in the coast, and people die in the traffic like in the Finnish mid-summer festivity.
There are already some tourists, mostly one hears British English. There should be some marches, I but I haven't happened to be there.
Mo april 16.
I went to exchange the empty gas bottles to full ones, so we can have warm water in the shower again.
We april 18.
Kari and Ismo keep free Internet courses for local entrepreneurs, and they advertise Enetti on the side a little. I got to be there and I spoke in lengths about web editors with the staff of Los Boliches "Tietotupa".
Th april 19.
I've done various pages for a week and a half now, but now the one that I started yesterday is already on the web...
http://enetti.com/net/ceramesa/
Layout and text are not mine, nor is the form. I edited the photos a bit and designed a logo. Client came here to see the page and liked it.
Enetti crew member sighted Juha Väätäinen, who is a Finnish runner legend. He will be interviewed and he will consult Outi and Ninni about his onion soup diet. Other known figures from Finland they've met (to my understanding) include the Uoti brothers and Volvo-Markkanen, who live or used to live here.
I saw a curious thing: a football flew over a fence into the driveway. A motorist resting his arm on the window caught the ball in full speed!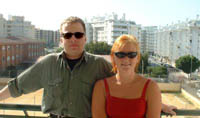 View from our balcony: a football field. One can follow teams practising.
Fr april 20. krav maga
One of krav maga's top men has come here to teach, "Eli" is his name. Two sessions are such that anyone can go there, even if they've never practised it before. So today even I have practised krav maga for the first time in my life. I've been meaning to try it sometime, and now the chance came quite unexpectedly.
First Eli spoke in great lengths about how it is now wise to get into trouble in the streets, then we learned about the weak spots of human body. Now, I can watch blood and internal organs, no trouble, but when I HEAR things like how to push a particular bone chip into someone's heart or brain, I get a little dizzy. Discipline wasn't quite as military as in kickboxing, which was nice. Techniques were quite straightforward, there were no jump kicks with triple axle. My hands are now a bit bruised from all the blocking though.
Krav maga
Krav maga sounds like Hebrew? That's what it probably is, and it means close combat. It's an Israeli army close combat method, that has been developed for some time now.
It's goal has been realism and applicability to street situations. It is assumed that there are multiple attackers, so the techniques try to eliminate the opponent immediately, so that one can take on the next. Movements start in very every-day positions, not from any kind of combat pose. Techniques must be such that they can be learned quickly, so that soldiers can have at least some kind of functionality after a few weeks intense training.
Sport is developed further e.g. by analysing actual cases of street violence.
Sa april 21. Málaga
Temperature was a bit higher for change, 27 C at four o'clock. I took the local train to Málaga. On the way I got a text message: "Telefonica MoviStar wishes you a nice stay. For help, call the Customer Care Center (609). For information & assistance (Hotels,Restaurants,Taxis...) call 2424". By my side were some Japanese tourists and I could tell two words out of their speech: "kaigan" i.e. a beach and "kanojo" i.e. a girl.
Málaga was the same as ever in all ways, except it was really hard to find a good steak. This must be because the Spanish have reduced beef consumption 80% because of all of these cow deceases.
I bought my first souvenir, a one litre bottle of Quarenta Y Tres liquor. It cost 71 FIM, about half it's price in Finland.
Su april 22.
After today's krava maga session I was so hot, that I decided go for a swim in the Mediterranean ocean, my first time during this trip. I returned to the flat on bear feet, which was nice until I stepped on a dead bee...
Our street is quite nice, because it has a meat shop, a fish shop, an estanco, a tapas bar, a pizza house, a barber and a bakery. One can go get some fresh bread each morning!

Downstairs' bar is one of Fuengirola's best tapas bars.
Tu april 24.
At about midday I went to the Tuesday feria of Fuengirola. It was a huge market area, but still it was packed with people. I bought shorts and a wallet and I saw Kari Tapio (a Finnish singer).
In the evening I went to an Irish bar with Kari and Johanna. Valerie was there too, she told me she had been at the beach on Sunday. I had been in about the same spot, at about the same time, but I hadn't seen her. Kari thinks Valerie is interested in me, but I think she flirts with everybody, not just me.
I hear Ismo is going to Barcelona to see formula racing next weekend. He's looking for people to share gas expenses, but the tickets... Again I'm almost in the right place at the right time, like last summer in Hungary.
(Addendum August 19. 2002: I was on a new trip to Fuengirola, and I tried to go to the Irish bar. It was however closed, because ETA bomb attack had been in its neighbour! The next-door hotel was shattered. Nobody had died, because there had been an early warning.)
We april 25.
I took the local train to Los Boliches and walked back the Paseo Marítimo, stopping at some bars on the way. I ran into Finns everywhere. In El Maestro old timers complained that the coast had changed.
Th april 26.
My job description is now more like that of a webmaster's, should I choose to come work here. Kari wants to concentrate on marketing in the future.
In the evening I took the company digital camera with me, to document some of the places I had seen. It was dark and I took a picture of mountainside habitation lights. Flash went off, though I had tried to disable it. Some hiker woke up near a fence, looking a bit silly. I hadn't even noticed him. He probably thought I took a picture of him, ha.
---
Return to home came quite too soon, and adjusting back to Finland was harder than adjusting to Spain...
see you,